Offices located in Vallejo and San Francisco.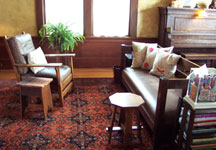 My private practice in Vallejo is located in the historic Susan and Thomas B Dick Home in the Heritage District. The office is filled with wonderful light and furnishings from the arts and crafts period.







My private practice in San Francisco is located in a beautiful Edwardian professional building, conveniently located in Pacific Heights.