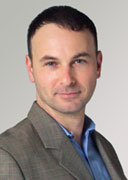 About James Orlando
I am a licensed Marriage and Family Therapist (MFC 42058) specializing in individual and couples therapy. I have over 15 years of experience as a counselor and psychotherapist working in a variety of settings providing both short and long term psychotherapy. I hold a master's degree in Counseling from San Francisco State University and completed my clinical training at the University of California Berkeley and the University of California San Francisco.

My therapeutic approach is collaborative in nature. Together we'll figure out how best to support your process and I will provide you with support and practical feedback. Drawing from a wide range of theories, we'll tailor our work for your specific needs. My sensibilities and outlook have been shaped by a longstanding interest in contemporary and outsider art, cultural studies and philosophies of simple and sustainable living.

I maintain a private practice with offices conveniently located in the Heritage District in Vallejo and the Pacific Heights neighborhood in San Francisco. I look forward to hearing from you.